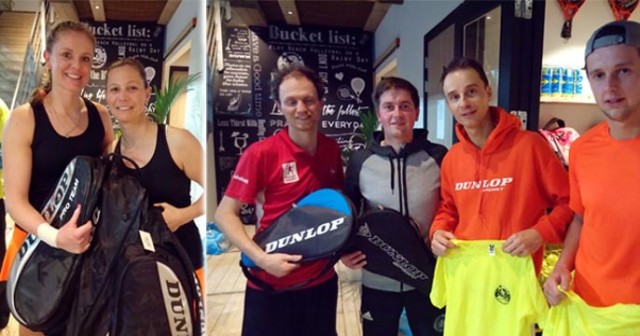 On 5th & 6th March 92 padel players, distributed in four categories, participated in the NPB La Playa Rijswijk Padel Tournament. The event, which was the first tournament of the Padel Circuit of Holland, was organized by La Playa in partnership with the Dutch Padel Federation.
For the highest male category, Bruijsten-Beltman, pre-qualified at number 2, defeated the favorites Bogaart-Meijer. It was an intense match that started rapidly to favour Bogaart-Meijer to lead the first set 4-1. Decided to take the trophy, Bruijsten-Beltman implemented their signature "slow & counter-attack strategy" to turn the match around. Remarkably, they scored twelve of the sixteen following games, to finish 7-5 6-3.
"I am playing my best padel", expressed a happy Bruijsten after the prices ceremony. The surprise came after when Coen Beltman, member of the Dutch National Padel Team, announced his retirement from the National Team. "… the motivation is not there anymore to train and invest so much time…", said Beltman when consulted about the reasons for his departure from the orange padel squad. "Beltman-Bruijsten will surely be remembered as a "classic" padel team in Holland not only for their national and international achievements, but also for their simple yet effective style of play and stylish counter-attacks", said their trainer Norberto Nesi.
For the ladies category, Koek-Schuttelaar defeated the experienced Hubbers and her new teammate Yvonne Peeters during a 43 minutes match for a 6-3 6-2. Koek-Schuttelaar dominated the match from beginning to end. Koek's big smashes did not find a suitable response from Hubbers-Peeters and took the title home.
The following are the final's results for other categories:
Men Intermediate, Van der Pol-Torres def. Van Arendonk-Ven Seventer 6-2 6-4
Men Beginners, Uri-Willem def. Van Eck-Kuijpers 6-3 6-3