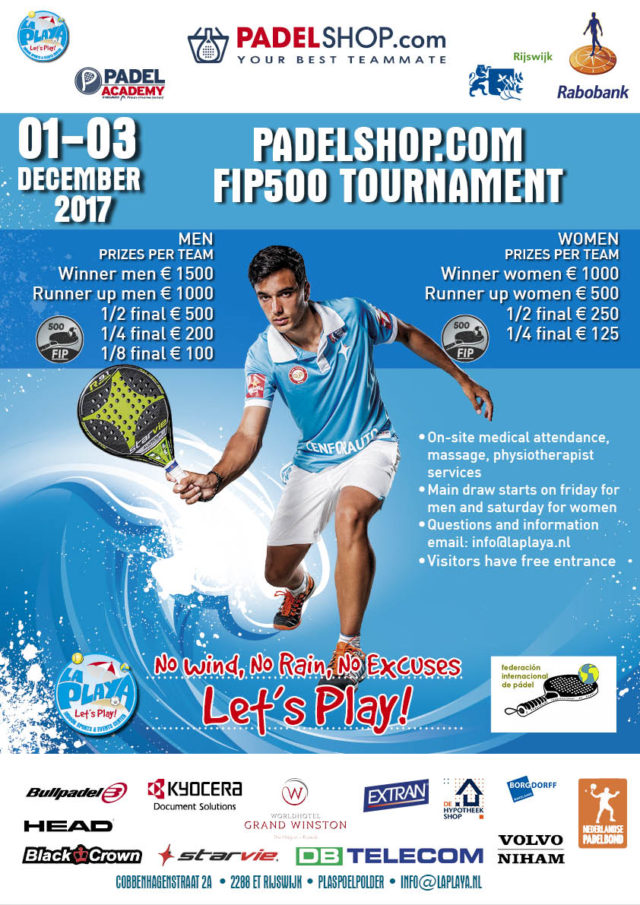 La Playa Rijswijk organizes from 1st till 3rd December the III PadelShop.com FIP 500 Tournament, in partnership with the Nederlandse Padelbond and International Padel Federation. The championship awards 10.000 Euros in prices and points for the Dutch padel circuit as well as for the international ranking.
Top players from ten countries announced their participation. Some of them are Andres Brito (Arg/Ita), Fermin Ferreira (Arg), Victor Sanchez (Esp) and Lucas da Cunha (Bra). Among the women Antonete Andersson (Swe) confirmed her presence.
In addition to the tournament, visitors can visit the Padel Village. Padel court builders and contractors, padel rackets producers and other industry related companies will feature their products and services. The tournament result and schedule can be followed online here.
Entrance is free. Address: La Playa, Cobbenhagenstraat 2a, 2288 ET RIJSWIJK ZH.