Last weekend Dutch padel scored positive news both from the west and north. Several players toured other European countries looking for new challenges.
Maarsen-Verhagen score in Germany
In Germany, Uriel Maarsen and Miquel Verhagen continued their ascending journey in Berlin. The duo obtained the crown at the FIP 100/ IV Berlin Padel Open, for the German Padel Series. Maarsen-Verhagen were clearly superior to their opponents. They scored easy wins all the way up starting at the quarterfinals: 6-0 6-1, followed by 6-0 6-0 in the semifinals. In the final match, Maarsen-Verhagen defeated Fran Gonzales and Juanfer Quesada 6-3 6-0.
Maarsen-Verhagen is one of the fastest growing padel teams in Holland. They are often spotted training in and outside the country and traveling to neighboring nations looking for new opponents.
Miquel Verhagen, "… The top ten German players were not there. The first match was not difficult. The second and third were more demanding thou. We played very well. We were able to implement all new techniques and tactics we trained lately…"
Bruijsten takes revenge on the Vikings
Dutch padel received positive news from the northern countries as well. Peter Bruijsten, ranked no1 at the Nederlandse Padelbond, partnered with Swedish Andreas Beer. Together they participated in the Goteborg Open for the Swedish Padel Tour. During the tournament Bruijsten faced all Swedish elite players to reach the final. Some of his opponents included members of the Swedish National Team that defeated Holland 1-2 during the EK 2015 in Rijswijk, including Sweden's best and tournament favorites:  Andreas Pålsson and Bobby Seger. He eliminated them to take revenge on behalf of orange padel. According to swedish specialized padel media PadelFeber.se, "… Bruijsten's level was sky high…". In the final Bruijsten met Swedish Master Champion Christoffer Sonesson and Spanish wonder kid Luis Pozo. After leading the first set 4-3 (40-15), with double break point, the match turned around for a final score 6-7 4-6.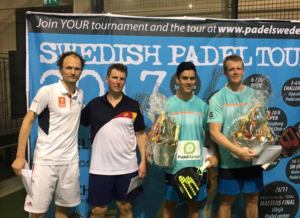 Bruijsten was nevertheless satisfied about his performance. Bruijsten, "…yeah, it was a great tournament. We defeated Bjorn Mossberg, one of the Swedish master champions from last year. And Palsson-Seger. Oef, what a nice schedule. In the final, we were up 4-3 (40-15), but we could not take the break. That was our chance… unlucky we could not take it. In the end they deserved to win…". Bram Meijer and Jim Kwakkel also participated in the Goteborg tournament. They were eliminated in the quarterfinals.