A crowd of Dutch padel players participated in the FIP 250 Tibeflex Open in Belgium during the weekend of 14th of May. The tournament was hosted by Padel4U2 Gent and officially sanctioned by the International Padel Federation & Padel Belgium. The group included Dutch veterans captain Pjotr van Dalftsen, Ewan Watson, Jeroen Froma, Uriel Maarsen, Kees-Jan Schuilemburg, Piet Koetzier, Miquel Verhagen and Holland's no.1 Peter Bruijsten and Bram Meijer.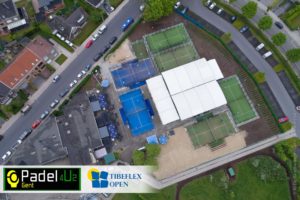 The tournament reached a record 190 participants from 11 countries. In the top category visitors enjoyed the spectacle produced by high level players, such as former Argentine no.1 Marcelo Masa Perez and current World Padel Tour Top 20 Guga Vazquez.
In this very competitive environment the Dutch participants performed well. Some of the
top performers were ascending Uriel Maarsen and Miquel Verhagen, who reached the quarter final. On their road they defeated semi-pro Belgian padel player Jeremy Gala. Peter Bruijsten and Bram Meijer reached the semi-final, to loose only to Spanish pro Victor Sanchez Vera and Lucas Bracchi by a surprisingly close 4-6 6-7. In the final, Marcelo Perez and Guga Vasquez defeated Lucas Bracchi and Victor Sanchez Vera 7-6 6-4.