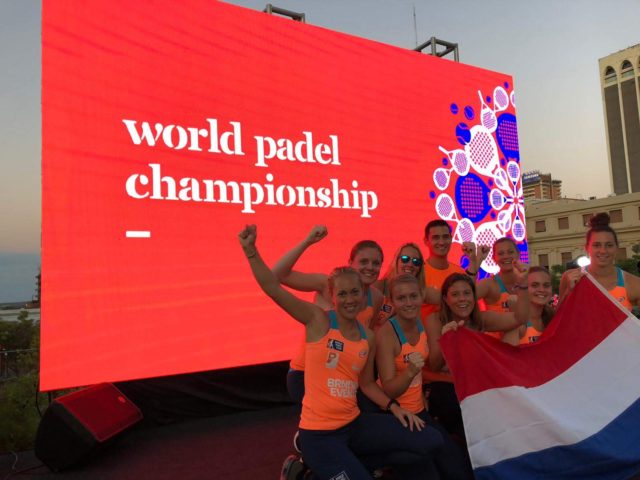 The World Padel Championship begins today. A total of nineteen countries and nearly two hundred players will participate in two competition formats: the National Teams World Championship.
The National Teams World Championship begins with four groups of four countries each that compete in a round robin format. For each country confrontation three matches will be played.
The best two qualified countries in each group move forward to compete for positions 1st to 8th. The third and fourth qualified nation compete for final positions 9th to 16th. The lottery of the teams and placing in groups A to D took place in Asuncion, last Saturday at 15.00 hrs local time.
The Dutch male team, in a strong group
The Dutch Male team was placed in the fourth position of group C. Group C is led by strong Brazil. The South American giant is bringing their strongest male group in their history, featuring some World Padel Tour players such as padel superstar Pablo Lima. Chile and neighboring Germany will complete the group. The orange team will play their first match against Chile on Wednesday 31-oct.
Ladies, with chances
The Dutch ladies were placed in Group A. Spain is the clear favourite to classify on the first position. France, who is led by World Padel Tour player Laura Clergue, will try to challenge the Spanish pros. Uruguay completes the group. The Dutch play their first match tonight against favorite Spain.
Nederlandse Padelbond's National Team Coach David Mallenco: "We are lucky to have the option to play against the best players in the world at the beginning of the tournament, avoiding them in next rounds."
The candidates
Spain and Argentina will battle for the Championship title in both the ladies and gentlemen competitions. The Spanish ladies are the clear candidates to claim the Championship. The Argentine men are slightly ahead of the Spaniards. Both countries are featuring their best team composition, including superstars such as Maxi Sanchez, Juan Martin Diaz, Sanyo Gutierrez, Paquito Navarro, Marias Diaz, Cristian Gutierrez and Franco Stupaczuc.