As padel continues to expand internationally, the professional tour changes.  There is an increasing number of non-Spanish or Argentine padel players crowding the pre-qualification, qualification and even the main draws.
Last weekend, during the Euro Finans Swedish Padel Open 2019, padel reached a new milestone.  Ana Catarina Nogueira (no.18) became the first Portuguese padel player to reach the final of a World Padel Tour event.  On road to the last match, she defeated well established participants, including stars Alejandra Salazar (no.1) and Ariana Sánchez (no.4).  Her best performance to date was the semi-finals of the Cervezas Victoria Marbella Master 2019.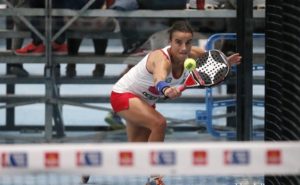 For the championships match, Ana Catarina and her teammate Paula Josemaria, lost against strong Marta Ortega and Marta Marrero 6-2 6-1.
Started playing padel in Argentina in 1987. Contributor to the structural development of the sport in Holland since 2006. University lecturer in International Business, specialized in media, sports and entertainment.   Senior padel coach, sports journalist, manager and pioneer.  Eternal student.
When I am training players I use a Dunlop Nemesis Padel Racket and Dunlop Training Balls. Would you like to become a guest author? Contact us.