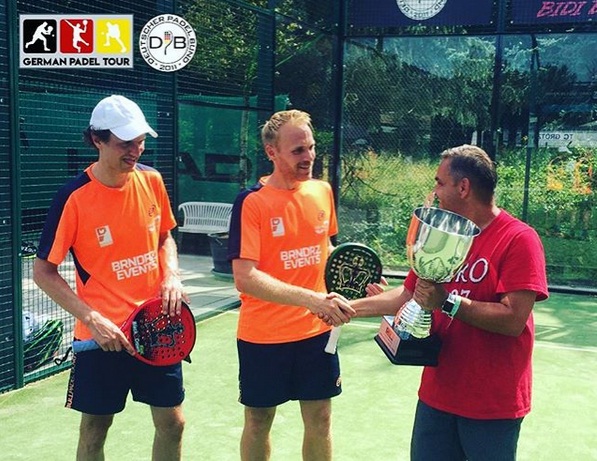 Peter Bruijsten and Berend Boers continue their winning march in Germany.  Last weekend, for the Karlsruhe Open, German Padel Tour – GPT 1000, the Dutch duo defeated all German opponents.
Road to the Last Match
After driving over five hundred kilometers, Bruijsten-Boers started the tournament in quarter finals against strong tennis players Oliver Strauss and Marco Herhoffer. The final stand noted 6-2 and 6-2 for Bruijsten and Boers.
For the semi-final, the Dutch duo met no.1 ranked German player Darek Nowicki and Oliver Schworer. The opponents were well known to Bruisten-Boers.  They competed against each other several times in the past including the world championships.
In this occasion, playing on a fast court without out-of-court play, the conditions seemed to favor the Germans.  Bruijsten was not allowed to recover ball out of the court, his specialty.  Against all odds, Bruijsten-Boers moved to the final 7-5 6-4.
Thrilling Final Match
For the final match, Bruijsten-Boers competed against young national team player Johannes Lindmeyer and Claudius Panske.
Bruijsten and Boers started well the first set with a break, which the Germans recovered and broke back again:  4-6 for the Lindmayer-Panske.  For the second set, the Dutch broke early again and managed to close the set 6-4.  During the third set, both teams speculated on the influence of the sun reducing visibility. On the crucial 8th and 9th games they broke each other services. The final was decided on a tie-break that crowned Bruijsten-Boers champions, 4-6 6-4 7-6.
Peter Bruijsten continue to win in Germany
Since 2016, Bruijsten has been building a reputation in Germany. With different partners, including Bram Meijer, Swedish Andreas Bear and Berend Boers, Bruijsten has amazed seven consecutive trophies. The streak includes two German Masters. Understandably, some of the German players call him "Unpeatable" or the "Germinator".
Bruijsten-Boers is the best ranked padel team in Holland. They train locally and compete mostly in regional non-Spanish European tournaments.
Started playing padel in Argentina in 1987. Contributor to the structural development of the sport in Holland since 2006. University lecturer in International Business, specialized in media, sports and entertainment.   Senior padel coach, sports journalist, manager and pioneer.  Eternal student.
When I am training players I use a Dunlop Nemesis Padel Racket and Dunlop Training Balls. Would you like to become a guest author? Contact us.