The 1st Senior Padel World Championship finished yesterday on a high note for Holland. The event's atmosphere was that typical of Padel: fun, informal and spontaneous. Both public and participants enjoyed great matches. Spain was crowned as Senior Padel World Champion both in the male and female categories and all the National Pairs tournaments. Argentina, who did not include most of their legends, presented a big show of talent that could nevertheless not keep up with Spain. Portugal and Italy proved, once more, their ascendance. The Nederlandse Padelbond sent a delegation comprising both a ladies and gentlemen team.
Dutch Senior Ladies, on Fire
The Dutch ladies reached an unprecedented 5th position and left behind several Latin American countries, including Brazil and Uruguay, beating on the way also Finland and United Kingdom. They were only defeated by strong Italy and the Spanish pros. For the National Pairs Championship, Mena Smolders and Kim Heneweer, put a great performance and reached the semi-final of the +35 category. They left the tournament with a bitter-sweet feeling after loosing to a Portuguese team that they could have beaten. Marie-Jose Rutten and Dietske de Vries won the Consolation draw of the +45 category.
Dutch Senior Gentlemen, good 10th position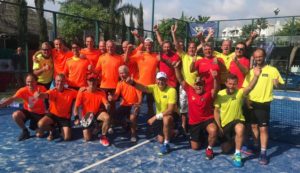 The Senior male team was placed in a very strong group, together with Argentina and Portugal. The result was the expected landslide. The senior orange bounced back by clearly defeating Finland. They moved to compete against neighbor Belgium for the 9th position. The final confrontation was a close 2-3 result that favored the Belgians on the last match. For the National Pairs tournament, Paul Beduel and Jack Engelaar won the +50 Consolation draw. Marcel Bogaart and Pjotr van Dalftsen were champions of the Consolation draw +45 after beating countrymen Ronald Beduel and Ruud van Hees.
"For Holland, this was a successful Padel experience. We will continue to invest in participating in this type of tournaments as a way to bring more knowledge and excitement to the country. This experiences are proven to become a "one week Padel university" to all Dutch participants", according to Nederlandse Padelbond's President, Norberto Nesi.