Milou Ettekoven and Marcella Koek continue their ascending road.  Yesterday they claimed championship at the Playtomic/Tibeflex Open FIP 250 in Gent, Belgium for the international padel circuit.   In the final they defeated WPT player Helena Wyckaert who partnered with rookie Elizabeth Wyckaert by a convincing 6-2 6-3.
"…it was a very nice tournament… I enjoyed playing against Helena Wyckaert. She is a very good player", according to Ettekoven.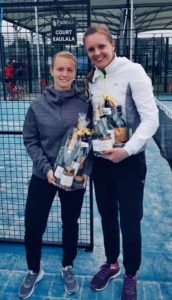 Ettekoven and Koek benefited from a "Bye" in the first round and W.O. in the quarterfinals.  In the semi-finals they faced Marie Maligo and Laura Bernard.  During the first set, the Belgians benefited from an early break to finish 4-6.  In the second and third set, the Dutch dominated the red devils, for a final results 4-6  6-2 6-2.
With this result, the Dutch no.1 ladies continue to improve and hope to finish on a high note at the end of this year during the upcoming European Padel Championships.
Other Dutch participants included Yvonne Peeters and Cindy Huberts, who lost against Belgian semi-finalists Jesse Brouwers and Shana Oyen 6-7 6-7.  Amazingly, right handed Huberts played all tournament with her left hand due to an injury on her right shoulder.
For the male category, Dutch Peter Bruijsten and Berend Boers won three matches to loose in semi-finals against top 40 WPT pro's Javier Rico and Jorge Nieto 2-6 3-6.  Pjotr van Dalftsen and Peter Amerika lost 6-4 2-6 4-6 against Dominique Coene and Jan van Kwikkelberghe in the first round.
[simple-author-box]