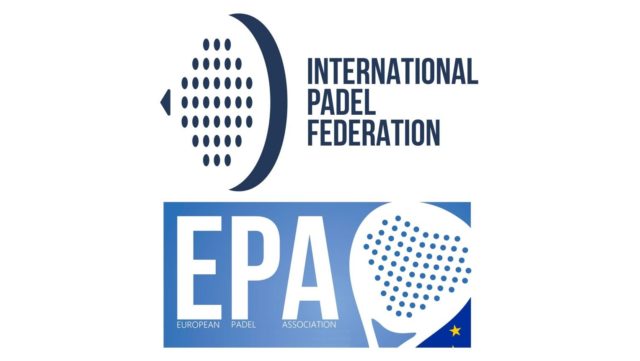 Four weeks ago both the European Padel Federation (EPA) and the International Padel Federation (FIP) organized their highly anticipated European Championships.  One in Lisbon; the second in Rome.  Controversially, two European Championships for one European continent, taking place at the same time from 3 to 6th November 2019.
Fernando Blanca, sports journalist and insider, took the time to visit both events.  Below we share some of his thoughts.
I EPA European Championship at Lisbon Racket Center – Lisbon 3rd-6th November
This is an iconic padel club. It was the first to feature a padel court in Portugal.
In this Championship participated the two strongest national padel teams of Europe: Spain and Portugal.  Two other of the fastest growing and most interesting of the continent also participated: Sweden and Belgium –they finished 3rd and 4th in the tournament)
The club features 2 outdoor courts, two "roofed" padel courts and a beautiful center-court with stands.
Visitor's services included a bar with an elegant terrace with overview to the central court. This was the only place available to get a beer or soft drink.   There was plenty of space available to build a full service food plaza and commercial booths.  None of them were available.  It was particularly remarkable that there wasn't a main and relevant sponsor –thou it is understandable due to the unusual circumstances-.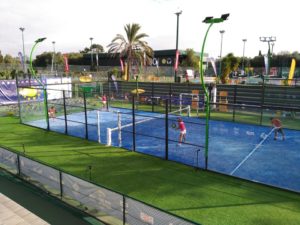 Portugal has successfully organized the FIP 2016 Padel World Championships and the 2017 FIP European Padel Championships. We are therefore aware of Portugal's outstanding capacity and experience to organize a high caliber sporting event.
Unfortunately, when conflicts such as this occur –e.g. FIP's claim to Portugal and EPA over ownership of the event-, the consequence may be that the quality of the event is insufficient. In this occasion, contrary to other events organized in Portugal, the EPA European Padel Championships in Lisbon was not up to the expected standards.
XI European Padel Championships organized by FIP – Rome 6th to 9th November 2019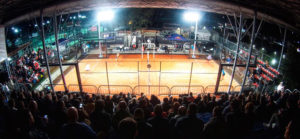 The third and fourth strongest national padel teams participated in the event. Italy was champion in the male category; the Italian ladies lost in the final.  The French men were runner up; the female squad was champion.  It was a nice surprise to see the improvements made by the British team. They nearly defeat the French gents team in the semifinals.  The British finished 3rd in both competitions.  Another team that is constantly improving and we should follow is the Dutch –particularly the ladies team-.
Bola Padel Club's facilities are special: with eleven courts –all panoramic-, it is the largest in Italy. Additionally, Bola is a "padel only" sports club with over 10.000 sq. meters of extension. It features a restaurant as well as few meeting and social areas.  It even has a "mini-arena" that resembles a modern day Coliseum.
The design of the Trophies was inspired on the Coliseum. It was designed by Alessandro Ceci. Ceci es the owner of the magnificent Padel Club Bola as well.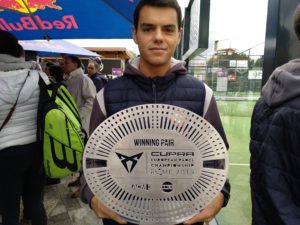 All in all, the facilities were extraordinary and the organizers knew how to take advantage of them.  Among other things, visitors could enjoy complementary traditional food stands and food-trucks.  Around a commercial zone companies presented various padel related items. A special feature was the Cupra tent which included few exhibition cars.  For the VIP and personalities, the organizers offered a VIP room and an additional food area.  Players had access to a players room where they could relax, rest and entertain with video games and free dietary supplements.
Bola Club built a suitable roofing cover and stands for its central court.   As it was the case in the World Championships 2016 and European Championships 2017, there were not enough seats available for public and visiting international delegations.
It will always be challenging to build a structure that could suit such a large crowd –visiting delegation usually comprise twenty people. Multiply this by sixteen countries. You can imagine how many people there was-.  The organizers could have arranged to play the final in a stadium, or perhaps place large TV screens and seats nearby the central court for people to watch the final as they enjoy the unique atmosphere.
Finally, I must say that the XI European Championships in Rome has an event of very high caliber. It was attractive for visitors, players companies and sponsors.  It was a very good product for our sport.
Imagine how much padel institutions –FIP and EPA- could achieve if they worked together.  I prefer not to go further on that issue. But if the padel institutions, in the coming months, are not able to start working together it should be perhaps up to all of us to say "enough, what legacy are you going to leave behind".  People, and their positions, come and go. Padel is here to stay.  If you are not here to build, you had better step aside.
[simple-author-box]