Padel keeps growing around the world.  The sport is currently played in over seventy countries. More than forty of them are members of the International Padel Federation (FIP).  However, the  growth of Padel was not reflected in the amount of global partnerships signed by FIP.  That seems to have changed with the arrival of luxury automotive brand CUPRA.
On 13th November, FIP announced an exciting agreement with SEAT's new brand CUPRA.  By this agreement, CUPRA becomes main sponsor of the International Padel Federation and commits to supporting the international expansion of the racquet sport.
The agreement was signed by Antonino Labate, CUPRA's director of Strategy, Business Development and Operations and IPF's President Luigi Carraro, during the celebration of the European Padel Championship 2019.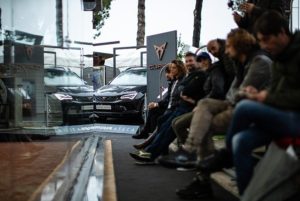 The agreement was visible for the first time at the European Padel Championship in Rome.  The brand was the title sponsor of the event "CUPRA European Padel Championship 2019" and the new CUPRA Ateca Limited Edition was featured in the stadium.
Rumor has it that SEATS's CEO is crazy about padel.  One should expect that there is inevitably more to come and that this agreement can become a magnet to more brands.
Started playing padel in Argentina in 1987. Contributor to the structural development of the sport in Holland since 2006. University lecturer in International Business, specialized in media, sports and entertainment.   Senior padel coach, sports journalist, manager and pioneer.  Eternal student.
When I am training players I use a Dunlop Nemesis Padel Racket and Dunlop Training Balls. Would you like to become a guest author? Contact us.