Yes, it is also happening in India.  Padel is growing there are well.  Media are starting to pick up on the padel story as the sport continuously develops in the background.  See the coverage by The Bridge, a news outlet dedicated to Olympic Indian Sports.
In addition, at sporting level, India seems to be moving forward as well with renowned Tennis Coach Shekhar Menon joining the Board of the Padel Federation of India.  His focus resides in the development of younger players and providing them with grounding for future elite progression.  According to Menon "…'Padel needs to get the publicity that it deserves. More players need to play the sport. And that means more courts need to come up across the country. We will be getting investors to set up Padel courts across major Indian cities… Padel is here to stay!"
The Indian efforts are already visible.  In August 2019 a delegation of Indian players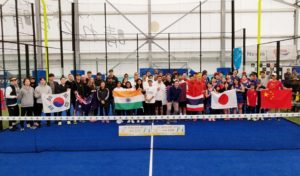 participated in the 3rd Asia Cup. India joined other nations in the championship for a record breaking number participation of 7 Asian countries (Japan, Australia, India, Qatar, China, Thailand, South Korea).
[simple-author-box]