The Dutch Twin Towers continue their ascending career by winning the 2018 Dutch Championships.  On their road to the finals they faced for the first match Joure's upcoming Sido Niholt and Pjotr van Dalftsen.  Maarsen-Meijer's superior speed and aggressiveness proved to be uncontrollable for national team coach Van Dalftsen and young Niholt, 6-2 6-2.  For their second match awaited ascending Victor van Ruissen and Chalie Koper. To their astonishment, the match could not finish faster, 6-0 6-0.
Former national team captain Marcel Bogaart and left handed Wouter van de Ridder awaited the Dutch Twin Towers for their third match.  Bogaart and Van de Ridder started slow and nervous.  Yet, they managed to turn the match around and presented some challenges to Maarsen-Meijer, who at the end reigned 6-3 6-3.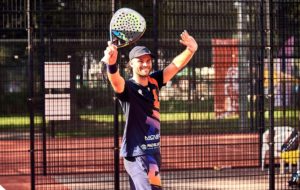 The final would find them competing against national team captain Peter Bruijsten and Berend Boers.  Bruijsten-Boers are at this moment the no. 1 ranked Dutch Team and defeated Maarsen-Meijer in their last match-up.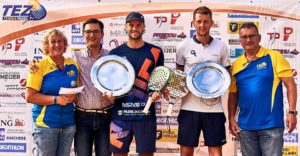 The match started with Bruijsten controlling the tempo and Boers on the offensive.  Maarsen-Meijer seemed nervous and anxious, losing the first five rallies of the match.  While Bruijsten-Boers were winning their services convincingly, Maarsen-Meijer had break points against.  Bruijsten-Boers continued to dominate by playing slow, low and creating spaces.  Nevertheless, the match progressed on even score until 4-4 on the first set.   With Bruijsten serving, Maarsen-Meijer managed to get a break.  They closed the set immediately after for a 6-4.    The second set found Bruijsten-Boers loosing grip of their strategy and Maarsen-Meijer dominating clearly.  As they started to play lobs to Maarsen, the smashes of the guy from Spijkernisse were hitting like a hammer.  Meijer continued to defend solid.  And so they cruised to championship for a final 6-4 6-1.