Once per year the best padel players of the country gather to compete for the Dutch Champion title.  For the 2019 Edition the event took place at the facilities of Padel Dam Amsterdam.
Competition Format – One Title
Contrary to the custom in other racket sports, the Nederlandse Padelbond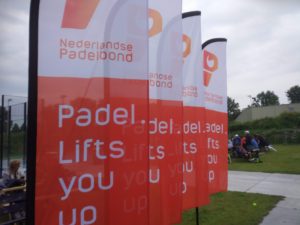 implemented a one only category competition format.  This follows traditions of the International Padel Federation as well as the Spanish and Argentine Padel Associations.  The result is that the championship granted for the first time the officially recognized title of absolute Champion.  As a reference, in Dutch tennis you would find divisions by level, and hence, several yearly champions corresponding to different levels of play.
First Timers
In addition to the one only category policy, the 2019 Dutch Championship introduced a competition for kids and veterans following international standards.   The categories for boys and girls included U-18, U-16 and U-14. For veteran ladies, +40 and +45.  For Senior Gentlemen, +45, +50 and +55.
Dutch Championship – Crossroads for Everybody
Nearly two hundred padel players from all corners of the country joined the event.  It was interesting to observe the interaction between players of different ages and participants of development programs implemented by the Nederlandse Padelbond during the last few years.  There was a clear synergy between all the actors of the padel community.
Take for example Marcel Bogaart, f
ormer captain of the Dutch National Team who now owns padel club La Playa and whose daughter, Fleur Bogaart, became runner up of the U-14 category.  Or the case of Veteran Ivo Van Dijk, who followed the Instructor course and encouraged his son, Danill van Dijk, to play padel and is now Dutch Champion U-14.  Also the case of Dutch padel stars Berend Boars, Bram Meijer, Uriel Maarsen and Peter Bruijsten, that after traveling the world to compete in European and World Championships today serve as role model both for Veterans, kids and coaches.
The Absolute Champions
For the ladies category, favorite Marcella Koek and Milou Ettekoven cruised to the final to compete against Violet Hendriks and Sanne Bouma.  The no.1 team was far superior to the no.2, 6-0 6-1.  Koek-Ettekoven lost only one game in the tournament and extended their winning streak to fourteen matches in 2019.
The two strongest Dutch teams met in the final of the gentlemen tournament: Uriel Maarsen/Bram Meijer against Bruisten/Berend Boers.  It was a highly expected match between classic rivals and former teammates.  One the one side, ambitious World Padel Tour professional players Maarsen and Meijer, who train in Spain, willing to show their Dutch peers their new skills; on the other, quiet amateurs Bruijsten and Boers, who without much support continue to impress.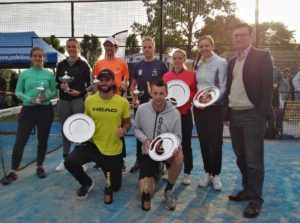 The match was explosive, with Maarsen/Meijer muscling up, speeding volleys and pumping smashes.  Bruijsten/Boers responded with fast counter attacks, clever anticipations and unpredictable mobility.  The highlight of the match included Peter Bruijsten running outside of the court in response to Maarsen's smash, playing it hard through the door and Maarsen recovering it back right before the ball exited the court through the second door.  The final score was for the pros Maarsen/Meijer, 6-3 4-6 6-4.
More Champions
Girls U-14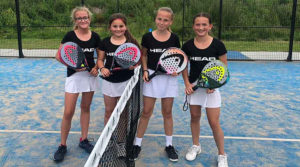 1st Fen Rauwerdink & Britt du Pree
2nd Noa van den Berg & Fleur Bogaart
Boys U-18
1st Stan Westermann & Jorrit Notenboom
2nd Xander Aue & Olivier Tolk
Boys U-16
1st Wessel Steenis & Lars du Pree
2nd Thijs Roper & Raphaël Jacobs
Boys U-14
1st Danill van Dijk/Mats Groen
2nd Kai Groen/Merlijn de Krom
Veterans Ladies 40+
Iris Sterkenburg/Thea Voors – Yvonne Peeters/Cindy Huberts
Veterans Ladies 40+
1st Dietske de Vries/Marie-José Rutten
2nd Ina van Lavieren/Natalie van der Horst
Veterans Gentleman 45+
P. Van Dalftsen/M. Bogaart – R. Beduel/R. van Hees 6-3 6-2
Veterans Gentleman 50+
F. van Ruissen/J. Engelaar -R. Verdegem/H. Melaard 6-3 6-3
Veterans Gentleman 55+

R. Janssen/H. Westermann – H. Oosterhuis/B. Hendriksen 6-4 7-6
Started playing padel in Argentina in 1987. Contributor to the structural development of the sport in Holland since 2006. University lecturer in International Business, specialized in media, sports and entertainment.   Senior padel coach, sports journalist, manager and pioneer.  Eternal student.
When I am training players I use a Dunlop Nemesis Padel Racket and Dunlop Training Balls. Would you like to become a guest author? Contact us.