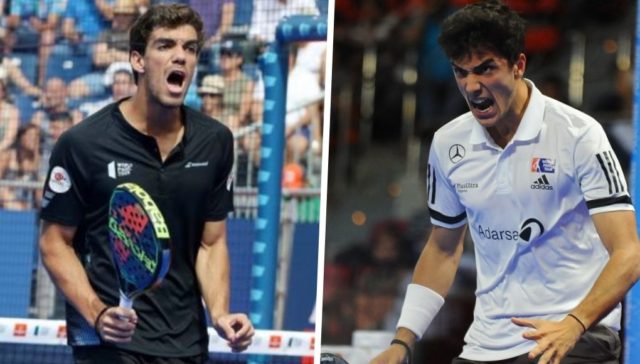 The average top professional padel player is getting younger.  Well, no, they are not getting younger. The average age of a top ten player is.  The downfall of Lamperti, Juan Martin Diaz and Juani Mieres are the symptoms.  Belasteguin and Matias Diaz's troubles and challenges are evident.  The rebellion and rise of the kids to the top -Tapia, Lebron, Stupaczuc and Galan- is shaking the ranking up.
The numbers confirm the trend. According to statistics collected by Argentine coach Martin Echegaray, top professional padel players have not been this young since 2006.  The average age of a top ten professional padel player is in 2019 30.2 years old.  In 2018, it was 34,9.  Similarly, in 2016 the stat averaged 34,5.  Clearly, there is a renewal in the top tier of professional Padel.
Growing Average Age
Since 2005, the average age of a top ten professional player has been increasing from 30 to 34.9 in 2018.  How is this explained?  Many of the most dominating padel players of the last fifteen years moved to Spain in the early '2000 with an average age well under 30.  This peloton of experienced professionals continued to evolve and age together.  Younger players, despite their fitness, were not able to challenge their wisdom and experience in the court. Thus, the wise continued to dominate.
But it seems we have reached a tipping point and age limit.  Several players of the dominating generation are reaching their 40s.  It seems that around this age recurring injuries finally become an issue.  This is the case of legend Juan Martin Diaz (44) and Juani Mieres (39), who exited the top 10 this year.  Fernando Belasteguin (41) and Matias Diaz (41) nearly left the elite group as well for the same reasons.  Popular Miguel Lamperti (41) is dramatically down to position twenty three.
The renewal, #NextGen Padel
The sudden assault to the top ten by Agustin Tapia (20), Juan Lebron (24) and Franco Stupaczuk (23) in 2019 heavily influenced the average age of a professional padel player.  This legion of young rebels is completed by Alejandro Galan (23), who entered the top ten in 2017.  Their entrance to the elite group reduced the average age from nearly 35 to 30.2. This is a dramatic change.
Mixed Teams, the trend of the year
All other players in the top tier are above thirty. In relative comparison with other racket sports, wisdom still seems to outperform youth in padel.  Or perhaps "complement it" I may argue if you consider that several teams announced for 2020 will mix a "young" player with a "wise" one, for example, Belasteguin (41)–Tapia (20), Sanyo (35)-Stupaczuc (23), Allemandi (39)-Gonzales (23), Lamperti (41)-Bergamini (23), Gomez Silingo (36)–Di Nenno (22), Mieres (39)-Garrido (20) and Juan Martin Diaz (44)-Campagnolo (25).  This seems to be the trend for this year with the exception of the only true #NextGen top Padel team: Juan Lebron (24)-Alejandro Galan (23).  Paquito Navarro (30)-Pablo Lima (33) and Matias Diaz (41)-Maxi Sanchez (33) don't seem to fit either the irreverent #NextGen style nor the mix group.
[simple-author-box]