If you are like most padel players, you dream about padel. "How can I play better?", you probably wonder. A new racket may be helpful. With Christmas and Sinterklaas around the corner, you may even be tempted to ask the always generous Santa Claus or Sinterklaas to give you a nice padel racket as a present.
To help you select from the many possible rackets available, PadelCentrum.nl has made a list of some of the best padel rackets available around in the internet for very decent prices.
Head Graphene Touch Delta Pro, by Head: Graphene Touch Delta Pro is the new
racket designed for Fernando Belasteguín. The Delta Pro is the ideal racquet to the hard hitting player, as it offers strength for the most demanding players. This model boasts a large sweetspot using CHIP technology which will ensure you return every ball. Equally, thanks to its new, more aerodynamic "diamond" shape and the innovative Graphene XT material, it allows you more power and durability. If you have always wanted to be able to hit a good smash, now you'll surely be able to! If you you are looking a lower end padel racket and still a fan of Head, you may like to consider the Head Graphene Tornado Power.
Dunlop Gravity, by Dunlop: This 38mm Oversize Hybrid padel racket was designed by
dunlop for top ten classic Padel player Juani Mieres.  It features a new technology development called vribro pods, silicon capsules inserted in the frame around the sweet spot to maximize vibration dampening for greater comfort. It offers an exceptional combination of power, control, comfort and durability. If you are looking for a Dunlop beginner's racket you may want the new Dunlop Boost Eclipse, an oversize with a 38mm profile and ultra soft core.
Star Vie R9.2 DRS Carbon Aluminium Soft, by Star Vie. This is a racket utilized by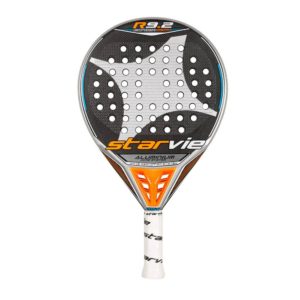 professionals. It is a round racket, oversize that offers great control in addition to "high power". Composition highlights: The DRS, a piece located in the bats center, provides better aerodynamics and improves weight distribution. The 2 mm star form roughness surface allows for more effect precision. The Soft EVA rubber, contributes to greater ball speed and ease of execution of the shot. Padel bat designed for defensive players.  Finally, the racket looks super cool! Star Vie is the official padel brand of the World Padel Tour.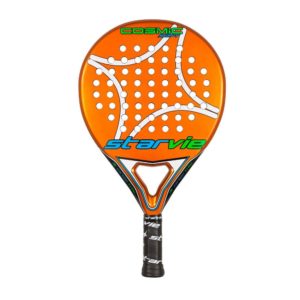 Extra: If you are an intermediate padel player and a fan of Star Vie, you can try the Star Vie Cosmic. This is perhaps the most Dutch racket in the history of padel (Orange!).