If you are like most padel players, you dream about padel. "How can I play better?", you probably wonder. A new racket may be helpful. With Christmas and Sinterklaas around the corner, you may even be tempted to ask the always generous Santa Claus or Sinterklaas to give you a nice padel racket as a present.
To help you select from the many possible rackets available, PadelCentrum.nl has made a list of some of the best padel rackets available around in the internet for very decent prices.
Graphene Touch Delta Pro, by Head. Graphene Touch Delta Pro is the new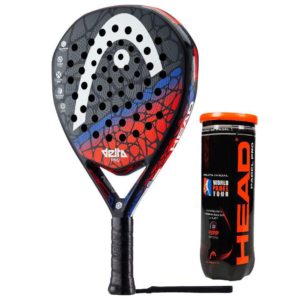 racket designed for Fernando Belasteguín. The Delta Pro is the ideal racquet to the hard hitting player, as it offers strength for the most demanding players. This model boasts a large sweetspot using CHIP technology which will ensure you return every ball. Equally, thanks to its new, more aerodynamic "diamond" shape and the innovative Graphene XT material, it allows you more power and durability. If you have always wanted to be able to hit a good smash, now you'll surely be able to! If you are looking for a lower end Head padel racket, you may like to consider the Head Tornado Plus.
Graphene 360 Alpha Pro 2019, by Head.  This top of the line padel racket by Head will simply exceed your expectations. It was originally designed to provide you with excellent
ball control.  But the tear-shape form allows you to combine control with power. The racket is very elegant yet sturdy.  Head has chosen the innovative graphene material for the frame and N2 rubber for the core.  The N2 rubber improved the memory of the face, density, playability and sound when contacting the ball.  In addition, the AntiShock technology will keep your racket scratch free for longer.  And the new Smart Bridge, helps the racket to adapt to nearly any playing style. This is the racket of the World's no1. Padel player in 2019: Sanyo Gutierrez.
Viper Carbon, by Babolat. This is an ideal padel racket for experienced padel players.  If
you are looking for aggressive play, this is your racket!  The head of the racket resembles the shape of a diamond. This means that the sweet-spot is relatively high and hitting big smashes will happen with ease.  The racket weights 370gr. and it is made of 100% carbon fiber.  The core of the racket contains EVA Foam rubber.
Extra: Are you an advanced padel player? Try Paquito Navarro's newest racket: the Bullpadel Hack.This is one of the the best padel rackets in the market.
If you want to learn more padel rackets and how to choose the best padel racket for your playing style and level read this article.
[simple-author-box]