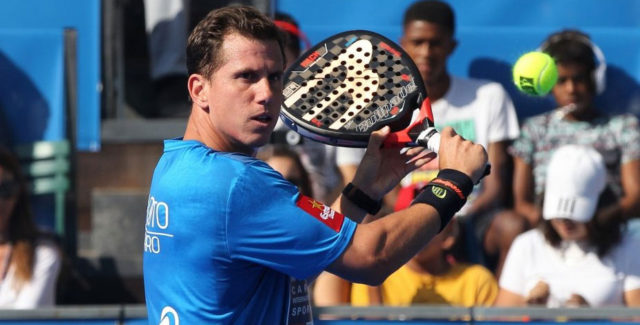 Francisco Navarro Compán, also known as Paquito Navarro, is the most charismatic, popular and followed Spanish padel player of our time.  He is on the way to becoming the most accomplished and respected player of his country. During a time when the sport was dominated by Argentine padel players, he rose to challenge their dominance.   He is today a symbol of modern Spanish padel.
Style
Paquito Navarro is known for being an aggressive padel player.  He typically plays on the left side of the court.  Thou he is not a heavy smash hitter, he is a complete attacker.  One of his most feared techniques is his off-wall forehand known as "the knife", which he uses both to produce direct winners, pass his opponents or force neutral volleys.   His volleys and general creativity are among the best in the circuit.
The Knife
To produce his "knife" or "cuchilla" in Spanish, Paquito stands sideways to the incoming off the wall ball.  He prepares a very high back swing by lifting his arm –including elbow- and positioning his racket behind his head.  He accelerates his arm violently and transfers his weight to the front. Notably, he relaxes his arm and wrist.  This relaxation allows him to produce an efficient acceleration of his muscles and produce a movement that resembles a "whiplash".  His follow through is very long and high. He finishes with the racket "around his neck" often times even loosing grip of the racket.
Social media
Paquito Navarro is a social media star.  Since the beginning of his carrier he featured his padel adventures on youtube.  His approachable and communicative personality is followed by tens of thousands on the internet.  This was innovative at the time when he became professional.   Today he uploads videos to his own youtube channel, DaleCandela TV, where he shares moments of his life as a professional padel player. On a second channel, PadelTrotters, he participates as guest and shows off unusual stunts.  In one of his most popular videos you can see him taking a ball out of the court using a cooking pan.
History
He was born in Valencia on February 10th 1989 and started playing padel at the early age of five.   Paquito played his first tournament with only nine  and immediately caught the attention of the public.  At ten, fourteen and sixteen, he played and lost the finals of the world youth padel championships for his age category.   Later, with Tito Allemandi as coach, he was finally able to break the "curse" and claimed championship at the youth world championship.
Becoming Pro
In 2009 he become professional.  He joined the Padel Pro Tour with Jordi Muñoz and won the under-23 Spanish Championship.  In 2010 he partnered with experienced Pitu Lozada and became runner up of the Absolute Spanish Championship.   His breakthrough as professional was with Tito Allemandi by reaching two finals of the professional padel circuit and participating in the Masters Final.  In 2013 and 2014 he seemed to loose focus and switched partners routinely.  2015 brought him his first big price as pro: the 2015 Master Finals, with Maxi Grabiel against mighty Fernando Belasteguin and Juan Martin Diaz.
Going for more
But he wanted more.  Shortly after he started playing with top player Matias Diaz. Together reached the second spot as best team in the World Padel Tour.   As if that was not enough, he wanted to become worlds no.1.  Then he went to look for talented Sanyo Gutierrez.  With Sanyo they seemed to be the only team able to challenge Belasteguin's infinite reign.   In 2017, during the Master Final, he even had a mathematical opportunity to take the no.1 position.  By loosing at the semi-final, he missed that historical chance.  During 2018, he switched partners often back again. He was seen partnering with former no.1 Juan Martin Diaz, Pablo Lima and Juan Cruz Beluatti.
Today
In 2019, with Pablo Lima playing back again with recovered Fernando Belasteguin, Paquito joined forces with young upcoming Juan Lebron Chincoa.  Paquito has been consistently ranked top 5 since 2016.
Sponsors
Between 2009 and 2016, Paquito played with a Middle Moon/Mystica racket.  He become the face of Middle Moon first and later of Mystica. Both brands are own by the same group of companies.
Since then his main sponsor is Bullpadel.  He currently plays with a Bullpadel Hack racket and Bulpadel Hack Knit shoes.
[simple-author-box]