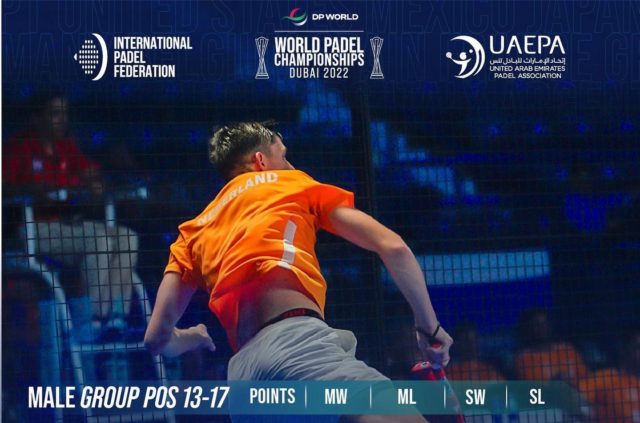 Back in elite group, after Qatar failure
Naturally, it is good to see Holland to be back at the World Championship after being left out for Qatar. Nearly a month ago the Dutch qualified by taking one of the three tickets available. There were eighteen countries competing. Holland deserved to be in Dubai.
Top of the bottom group
In Dubai, a 13th final position at the top of the bottom pack, seemed fair. How so?
After the highlight of the first match, when ultra-offensive Meno Nolten and Rene Lindenbergh stunned the Italians with a fast two sets win, Holland retreated. The following two matches against Italy and all against Belgium were a hard slap on the face. All finished quickly in two sets; sadly Holland seemed to have no response. Against Argentina, it was all for the viewers entertainment and Dutch players development. The experience confirmed that ultra-attacking and speed can take you only so far in Padel. Against top professionals, that would not work.
Later, the matches against Qatar and Dubai were of little relevance. Both teams were in competition simply as host countries. Egypt was something similar, thou slightly more competitive.  However, it was interesting to see Holland against United Kingdom for the 13th final position. Note that the UK team includes several half Spanish players that performed surprisingly well in past Championships.  Holland won both matches.
All in all, 13th seemed somewhat fair. Perhaps 12th -place taken by Ecuador, a weaker team that had a more favorable draw- would have been more representative of the level of the Dutch. Uruguay -11th– and Mexico -10th– are still slightly ahead. The rest are far too good.
In two years, Holland will need to play the qualifier tournament, most likely again against eighteen countries for three tickets to the Championship. With the exception of superior Sweden, the pool of opponents will not include any unbeatable teams and Holland should qualify. At the World Championship, unless KNLTB pulls out some intelligent trick, Holland will finish again at the top of the bottom pack.
[simple-author-box]