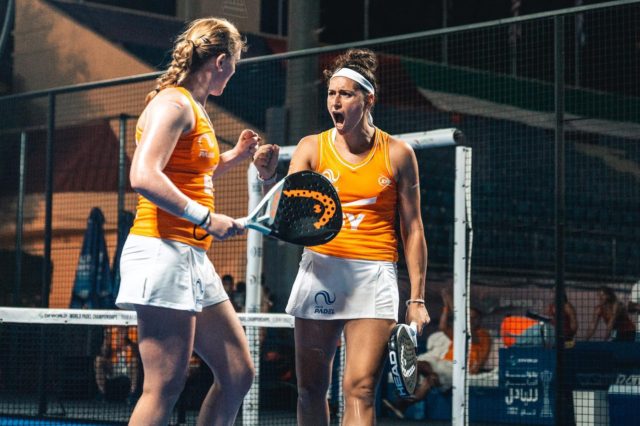 The Netherlands finished 10th in the World Padel Championships in Dubai. That is pretty decent for a fast-growing sport that is played in more than seventy countries and has fifty recognized national federations.  10th is also one step lower than in both previous World Championships: Qatar and Paraguay. There was Holland 9th.
The difference between 10th and 9th
Thou the difference between a 9th of 10th position does not seem dramatic, I must say that it is very relevant. As 10th finishing team, The Netherlands might need to play a Qualifications tournament.  The best nine countries plus the hosting nation are prequalified to participate in the World Championship. If any of the nine best teams agree to host the next championship, The Netherlands will avoid a qualifier tournament.
More of the same might not be enough next time.
The Dutch team has been, as its core -with the exception of the addition of Steffie Weterings and Michaella Krajicek-, the same for the last six to eight years. Logically, the results have been nearly the same. The team seems to be moving forward organically. Evidence of this are  three consecutive victories against classic padel nation Uruguay – in Paraguay, Qatar and Dubai- for nearly the same scores (perhaps slightly better).
But here is the point.  If Holland wants to catch up with fast evolving Sweden, France and Belgium, or classic Brazil, something else needs to happen. Perhaps the answer is in some of the existing senior players to commit to play the international circuit, or, in assisting some of the ambitious younger players waiting on the sidelines.
One step behind the main peloton. Brazil, France and Sweden are slightly better.
All Sweden -6th-, France -7th– and Brazil -9th– were tied in the groups phase. Holland lost against Brazil 1-2; that is a good benchmark to understand where Holland really is. Germany, a country slightly under Holland's level, finished 8th -perhaps benefited by a more favorable draw-.
6th to 9th is the place where Holland appears to belong. A 10th place feels underpaid. Will the KNLTB make significant changes to move the Dutch team forward significantly? They have two years to do it.
[simple-author-box]