For the final of the Jaen WPT Open 2019, Paquito Navarro and Juan Lebron faced Sanyo Gutierrez and Maxi Sanchez.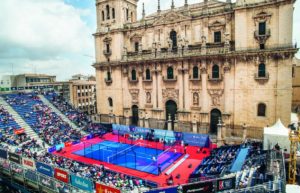 The expectations were high as these are the two strongest teams of the 2019 season. All tournaments so far were won by either one or the other team.  Additionally, Paquito and Lebron are both locals of the Andalucia region and they would play in front of their own crowd. Nevertheless, Sanyo Gutierrez and Maxi Sanches, the no.1 ranked team, were the favorites. In all previous matches of the 2019 season they defeated Paquito and Lebron.
But things were different this time.  Young Lebron continues to improve technically and mentally.  Paquito was the same solid creative force that we have seen during the last two years.  For the first time, they defeated no.1 Sanyo and Sanchez: 7-5 6-4.
[simple-author-box]