Fernando "Bela" Belasteguin is one of the biggest legends of Padel.  He is the record holder of the no.1 spot in the international professional ranking for over 16 years (2002-2017), youngest no.1 ranked player and multiple times world champion.  Furthermore, he is one of the most respected participants of the professional circuit, both by teammates and opponents, inside and outside the court.
The History of Fernando Belasteguin
Belasteguin was born in Pehuajo, a small quiet town located in the center-west of the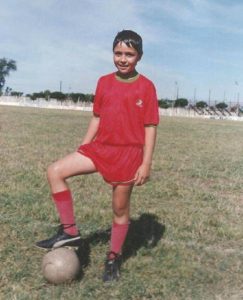 Province of Buenos Aires, Argentina on 19th of May 1979.  He was a typical young kid of the Argentine country side who spent most of his time at school or playing football at Club Atlético Gral. San Martín of Pehuajo.  In 1990, Club San Martin de Pehuajo built two padel courts and he started combining football and padel.  At that time he was playing as center back and shortly after he realized that he would not get far with football.  "… Most of the main football clubs from Buenos Aires wanted kids that could score; not defenders.  I realized that by playing padel I could travel and see the rest of Argentina.  I would not be able to do that with football", said once Belasteguin.
In 1992 Padel trainer Diaz –father of professional padel players Matias and Godo Diaz- noticed his qualities and invited him to train with him.   With only 16 years of age, in 1995, he became professional.
Rising to the Top
His first big achievement occurred during the year 2000. After having a very good season he reached the no.1 spot in the Argentine ranking.  In 2001, he joined Juan Martin Diaz as partner and ascended to the top spot in the Spanish padel ranking as well. Since then, for sixteen straight years, Belasteguin held the no.1 spot in the world ranking -2002 to 2017- and broke numerous records. For example, he was unbeaten for 1 year and 9 months -22 tournaments- between September 2005 and May 2007.
Until 2014 Belasteguin partnered with Juan Martin Diaz. Together they became the "kings of Padel".  This was a fantastic period for "Bela". In addition to the endless count of professional tournaments, he won several World Championships, both in the Open Category -2002 & 2004- as well as with team Argentina -2002, 2004, 2006 and 2014-.
Joining Pablo Lima
In 2015 the padel community got shocked by the announcement.  The "Kings of Padel" were there no more.  Belasteguin announced his new project for the upcoming years and left Diaz behind.  His new partner would be Brazilian Pablo Lima.
There was plenty of speculation about the change at that time.  Why did he break up with Juan Martin Diaz? Did they have an argument or were they in bad terms?   The answer came from Belasteguin himself.  Their relationship was fine.  They had great admiration for each other but it was time to move forward.   If you look things in perspective the move made sense.  Whereas Juan Martin Diaz was entering the last stage of his career and was due to start looking into retirement, Belasteguin was on top of his game.  He wanted to enter his mid career and build it further.  Lima, a young left handed player, offered Belasteguin better long term prospects than veteran Diaz.
Ferndando Belasteguin – Pablo Lima, the Velociraptors
They were fast and aggressive like no others; strong defensive gladiators combined with  Einstein's intelligence.  Belasteguin was a well rounded master tactician and Lima a tireless defender with a heavy smash punch.    2015 and 2016 was boring.  Belasteguin and Lima had no contenders.  Together they won nearly every tournament possible.
The wonder of Belasteguin-Lahoz
There was a period of time, during the endless reign of the Belasteguin-Diaz team, that analysts tried to answer a number of questions. Is Juan Martin Diaz a better player than Belasteguin? Is Belasteguin such a fantastic player or is he simply ranked no.1 thanks to Diaz's special talents?
During two tournaments of the 2015 season, Lima was temporarily out of the circuit.  Belasteguin had no fix partner.  He found in Willy Lahoz, a semi-retired 43 years old Spanish veteran, a substitute.  It seemed like a weak fix that would not take Belasteguin far and to the final.
The first miracle took place at he WPT San Fernando 2015.  Willy Lahoz and Fernando Belasteguin progressed to the final of the tournament and defeated Paquito Navarro and Matias Diaz in two sets 6-3 6-4.  It seemed like a remarkable impossible one time event that would never happen again.
Two weeks after, at the Open de las Palmas, he did it again. With Willy Lahoz, Belasteguin reached the final once again.  They defeated the same opponents 6-2 7-6 and were champions once more.
The world reconfirmed who Belasteguin was:  an incredible champion, able to achieve the impossible, with teammates of all ages and characteristics.  A true legend whose talent had no equal and who was able to lift his teammates to unknown heights.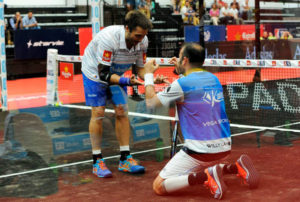 Doubts and Injuries
At the beginning of 2017 Fernando Belasteguin lacked self confidence.  He got mixed results and unfortunate recurring injuries.   He found in Sanyo Gutierrez and Paquito Navarro two challenging opponents.   Nevertheless, he managed to retain the number one spot in the ranking and claimed championship in eight occasions.
But 2018 brought more challenges and doubts to Belasteguin.  After conquering the second tournament of the year, he lost at the first round of the three following tournaments.  This allowed Maxi Sanchez and Sanyo Gutierrez to get closer than ever to challenge his no.1 place in the ranking.  At the end, Belasteguin had to take time off to recover his aching elbow.  There was speculation that he would need a serious injury or even have to finish his career.  During his time off the circuit, he lost his no.1 place to Maxi Sanchez and Sanyo Gutierrez.   At the end of the 2018 season he returned to compete at the Madrid Master Finals of the World Padel Tour.  Once again, he conquered by defeating the no.1 team, Sanyo Gutierrez and Maxi Sanchez by a convincing 7-6 6-3.
Belasteguin's Playing Style
Fernando Belasteguin plays on the left side of the court. However, he is not a typical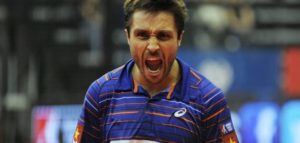 player for his position.  Rather than being a 1.80mts tall heavy hitter he is a well rounded classic player; perhaps he has more the profile of a "right side" player.  His view of the rally are fantastic and he can use the lob like no other.  In fact, he admits that the lob is his best shot and he is average on all others.  He is working on improving his volleys, smash and transitions.  In his own words, he has plenty of weaknesses.
"I am a technically limited player.  My limitations forced me to study the sport Deeper and play more efficiently.  I am simply good at analyzing and exploiting my opponents weaknesses…", Fernando Belasteguin.
His opponents, including Sanyo Gutierrez, publicly said that Belasteguin's lob is the best in the circuit.  However, none of his other techniques are extraordinary. Neither is his fitness or stamina.  He is simply average for a professional padel player.  But Belasteguin's mental strength is far head of the rest.  He is proud of his "… never give up…" thinking.  Perhaps that made him the best in history.
Lastly, in 2019 Fernando Belasteguin seemed to start exploiting a new type of scoring opportunities:  the counter-counter attacks.  He is often seen scoring at the net as his opponents try to score from outside of the court.  With this, Belasteguin is pushing the sport further into the future.
Teammates
1999 – 2000 Guillermo Demianiuk
2001 – 2002 Pablo Semprun.
2002 – 2014 Juan Martín Díaz.
2015 – Willy Lahoz (Pablo Lima, injured)
2015 – to date Pablo Lima.
Sponsors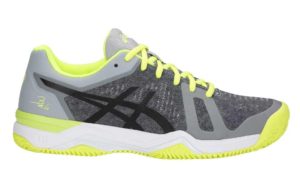 In 2019, his main technical sponsors are Asics and Head.  He wears Asics GEL-BELA 6 SG shoes and plays with a Head Graphene 360+ Bela X racket.
[simple-author-box]