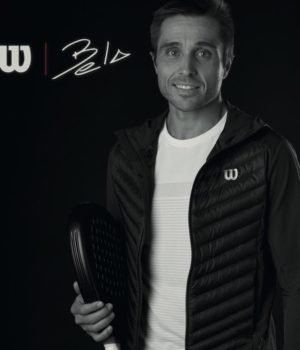 There was plenty of speculation that indicated that Belasteguin was up to something big.  Earlier this year Belasteguin completed his multiyear contracts with two of its biggest and longest partners.  He decided not to extend the term of the agreement.  His shoes, technical clothing and racket categories were open.   Who would be his new partner?
It was highly anticipated that he would move forward to partner with big American company Wilson.  The official confirmation came in today, with Belasteguin's agency making the announcement.  His social media accounts followed by changing his cover pictures. A Wilson source confirmed that they had been working on the deal for months. The Americans want a piece of the fast growing padel business.
"Working together to make our beautiful sport even bigger. Thank you very much Wilson for trusting me for this great project for the future!
#WBela
#WilsonPadel", commented Belasteguin on his Facebook account.

According to a PR Newswire, Belasteguín will collaborate with Wilson and co-design a signature Padel collection of products, including a paddle line, accessories, apparel, and footwear.
Fernando Belasteguín will debut a blacked-out Wilson paddle in March, which he is playtesting. This racket is designed specifically for him and reflects his insights and preferences. Later this year, Belasteguín and Wilson will unveil a Padel collection called "Wilson x BELA". This line will consist of several rackets, accessories, on-court apparel, and performance footwear.
Belasteguín also joins the Company's prolific Advisory Staff program that was established more than 90 years ago and is comprised of more than 10,000 professional athletes, coaches, teaching pros, and advisors across a wide variety of sports around the world. He joins several icons of the Wilson Advisory Staff in Racquet Sports, including Roger Federer and Serena Williams, who, like Belasteguín, have helped define and grow their respective sport.
"There is only one Bela," said Hans-Martin Reh, General Manager, Wilson Racquet Sports. "This is a true partnership in every sense. We'll work closely together to create game-changing products that fuel the growth of Padel and make it more rewarding to play, and we'll seek new opportunities to build a larger community around the sport."
Non-confirmed information suggests that he signed a record breaking contract that includes a seven figures fee for a term of ten years. Neither Belasteguin nor any source close to him has made any comments regarding the specific terms of the agreement.
[simple-author-box]