The spring is here.  You are getting better at playing padel.  It is perhaps time for you to upgrade your padel racket.  And you wonder, what padel racket should I buy in 2019? What are the best padel rackets of 2019?
To help you out, I have done some research and put together a list of padel rackets that seem to be the best in the market.   If you need more technical advice, visit my original article "How to choose a padel racket".  There you can learn about technical aspects of a padel racket that you should keep in mind when buying a racket.
Big Brands
Graphene 360 Alpha Pro by Head
This racket is a must among the best padel rackets of 2019.  It is the racket used by Sanyo "the wizzard" Gutierrez.  Boy what elegant racket!  I don't think that I have ever seen such a classic racket before.   It is black with touches of gray and white.  When you enter into the padel court people will surely look at you.
The Graphene 360 Alpha Pro offers a well balanced body and more control.  The "tear" form of the racket allows you to hit the ball hard.  The "sweet spot" is relatively big.
It was designed with the advanced padel players in mind. However, it is easy to handle. Thus, it is also suitable for intermediate players that want to step up and play with a pro racket.  The racket is on discount price at SmashInn and TennisDirect.
Nemesis Moyano by Dunlop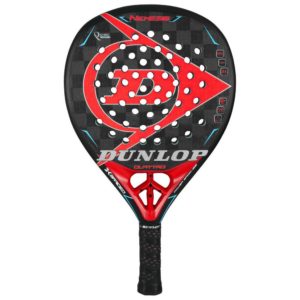 The Nemesis Moyano is ideal for the heavy hitting monsters.  Do you like playing aggressive and bombing your opponents with your big smashes? Then is is your racket. It can handle pro beast padel player Ramiro Moyano.  It can surely handle you!
This racket has most of his weight on the upper part of the head to make your smashes even harder.
The Nemesis Moyano was designed and produced by Dunlop.  Dunlop is a very well established brand that offers very good quality for your money.
Adipower ATTK 1.9 by Adidas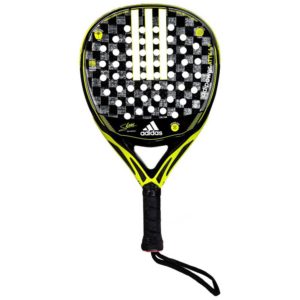 One more racket that for me is among the best padel rackets of 2019 is the Adipower ATTK 1.9.  I must admit that few years ago, when Adidas presented its padel products, I did not take it seriously.  The project was not managed by Adidas itself, but by a Spanish licensee instead.  I thought this was not going anywhere.  But I was wrong.
Since then Adidas has developed and launched a number of good products. This is one of them: Adipower ATTK 1.9.
The Adipower ATTK 1.9 is an oversized diamond racket.  Most of his weight is at the top of the frame.  At the core it has high memory EVA rubber.  This means that you will be more likely to hit the ball hard if you are a heavy hitter.  Both the frame and face of the racket are made of 100% carbon.  It is not easy to break.
Pro Staff Tour by Wilson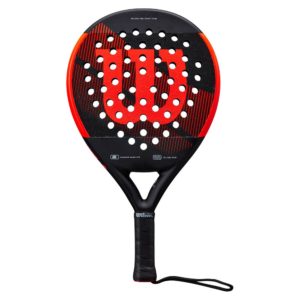 Wilson is another big brand in the racket sports industry.  Not so long ago the launched their padel products.  And they seem to be doing well.  They have a catalog of nearly twenty rackets of all prices and shapes.   The Pro Staff Tour is their top of the line racket for advanced players.
But it has something peculiar.  Wilson says that this is a well balanced racket.  This is not usual because most of the advanced rackets have plenty of weight on the upper part of the frame.  Thus, if you want a racket for advanced padel players that is easy to handle, this might be for you.
The racket (face and frame) is made of 100% carbon.  This gives durability to it.  Lastly, the face of the racket is rugged. That is also positive because it will improve the grip between the face of the racket and the ball.  You will be able to give more slice or topspin to the ball.
Viper Carbon by Babolat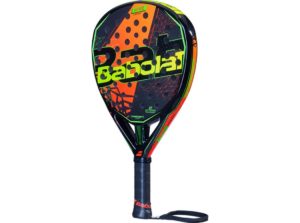 Juan "Wolverine" Lebron is one of the most exciting young padel players of this moment.  He is Paquito Navarro's partner and the Viper Carbon is his padel racket.
The Viper Carbon is a pro level padel racket, made of 100% carbon.  It is easy to use.  The weight is evenly distributed and the sweet spot is rather big for a diamond shaped racket.
Something Exclusive
F550 by Rossignol
This is a racket for people that wants to think out of the box.  Rossignol is one of the largest producers of skies.  And now they are also producing padel rackets.
Something Special about Design
There are some peculiar details about this F550 by Rossignol.  First, notice that on the upper part of the bridge between the grip and the face of the racket, the frame is discontinued.  It has some sort of gap.  It seems that the designer was thinking about the second hand of the player.  That "gap" seems to be a good place to grab the racket from with your free hand. The sharp edges of the frame should not bother the fingers of your free hand. Interesting.
Soft Core
A second unusual aspect of this Rossignol racket is the material at its core.  Most of the top of the line rackets feature hard EVA foam.  Hard EVA foam is a material suitable for heavy hitters.  You are able to give high speed to the ball only if you move the racket fast.
However, the F550 is made of soft EVA.  This means that if you are not a heavy hitter –or someone who can accelerate his muscles and move the racket fast- you will be able to give high speed to the ball.  The interesting aspect of this concept is that soft EVA will allow you to use the racket as a sort of "catapult".   In other words, this racket will envelop the ball and "amplify" the swing of the racket.  It was designed with the idea of generating power rather than withstanding power.  Clever.
Padel Specialist
NOX ML10 Luxury L.5 Titanium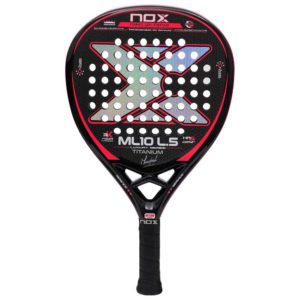 The last racket in my list of best padel rackets of 2019 is the ML10 Luxury L.5 Titanium.  This racket was built to honor big boy and pro player Miguel Lamperti. Nox is a Padel only brand from Spain.
The racket is made of extremely high density EVA rubber and 3K interwoven carbon fiber.  Thus, it is a great hard racket for a heavy hitter.  To help you improve shots with effect the designer included a rugged face.  The frame is protected by a transparent accessory to avoid scratches.
Started playing padel in Argentina in 1987. Contributor to the structural development of the sport in Holland since 2006. University lecturer in International Business, specialized in media, sports and entertainment.   Senior padel coach, sports journalist, manager and pioneer.  Eternal student.
When I am training players I use a Dunlop Nemesis Padel Racket and Dunlop Training Balls. Would you like to become a guest author? Contact us.