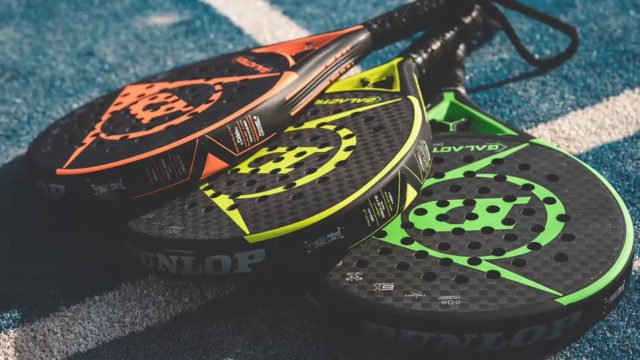 It is time to present the list of the best padel rackets of 2020. Every year most producers of padel rackets renew their collections.   They introduce new rackets, features or improve their cosmetics.  Sometimes they even sponsor new upcoming professional players.   The year 2020 is no exception.
Are you looking for a new padel racket?  The following are among the best.
Best Padel Rackets of 2020
Viper Carbon 2020 by Babolat

Babolat might be one of the most recognized brands in tennis.  In padel, they are just starting.  And they are doing it with a big bang.  The Viper Carbon 2020 is the new padel racket designed Juan "Wolverine" Lebron.  Juan is the first Spaniard ever to top the professional padel ranking.
The Babolat Carbon 2020 is an ideal padel racket for aggressive and experienced players.  With a diamond shape,  the racket produces a higher sweet-spot and transfers a significant portion of its weight to the upper part of the frame.  It is relatively heavy, with 370 grams.  Breaking the racket should not be an issue in any case; the racket is made of carbon 100%.  The core of the racket is made of EVA rubber.
Dunlop Galactica
Did you know that Dunlop got bough buy rubber giant Sumitomo?  No surprise then that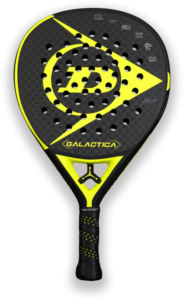 the company is reinvesting in its Dunlop Sporting equipment, including Padel.  And Dunlop is the most respected brand relating to anything relating rubber.  And that is what makes Dunlop special.  Rubber is a main component of padel rackets.  Galactica is Dunlop's new collection featuring Dunlops best's rackets.
Galactica represents Dunlop's heaviest padel racket.  This racket is able to generate a lot of power for your attacking shots.  The racket features a hybrid head shape, higher balance and well established Japanese technology.  This is the racket of choice of old pro dog Juani Mieres.
Asics Lima
Asics is not a brand with a strong padel background.  This is more of a brand for the out-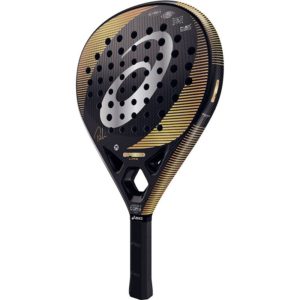 of-the-box thinkers.
The Lima racket is top of the line for advanced players.  It was designed by Asics with Pablo Lima in mind, an aggressive-style padel player, who bases his game on speed and power.  Brazilian Lima has been, as Fernando Belasteguin's partner, ranked no.1 at the World Padel Tour for nearly three years.
The Asics Lima Padel racket is molded in a tear shape to move the sweet spot and some it's weight to the upper rim of the frame.  The racket is 100% carbon made. Asics promises for this racket to be long-lasting and heavy-duty.
Nemesis by Dunlop
The Nemesis racket was originally introduced in 2019.  But it appears that due to its success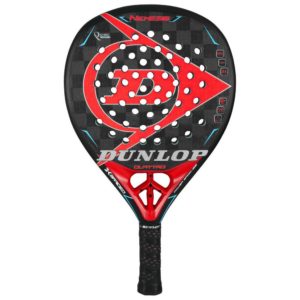 Dunlop decided to keep it in its catalog.
Do you like playing aggressive and bombing your opponents with your big smashes? Then this is your next racket. It can handle pro beast padel player Ramiro Moyano.  It can surely handle you!
This racket has most of his weight on the upper part of the head to make your smashes even harder. The form is oversized, consequently the sweet-spot is relatively big for this type of rackets. Its weight ranges from 360-375 grams. In addition, the Pro Touch technology by Dunlop reduces any vibrations and discomfort when impacting the ball.
Dunlop is a very well established brand that offers very good quality for your money.  It is no coincidence that the Dunlop Nemesis is in our list of best padel rackets of 2020.
Graphene 360 Alpha Pro by Head
This is one more of 2019s keepers.  It did so well in 2019 that we included it in the list of best padel rackets of 2020.  Famous Sanyo "the wizard" Gutierrez plays with it.  This is a very elegant racket, both by looks and play. I don't think that I have ever seen such a classic racket before.   It is black with touches of gray and white.  When you enter the padel court your opponents will surely look at you. Wow!
The Graphene 360 Alpha Pro offers a well balanced body and more control.  Produced in a "tear" form, it allows for heavy smaes and hard acelerations.  The "sweet spot" is relatively big for a racket of this type.
It was designed with the advanced padel players in mind. However, it is easy to handle. Thus, it is also suitable for intermediate players that want to step up and play with a pro racket.  The racket is on discount price at SmashInn and TennisDirect.
Adipower Soft 2.0 by Adidas
This is Ale Galan's padel racket by Adidas Padel. Ale Galan is one of the most exciting
young padel players in the World Padel Tour and one of the biggest candidates to take the no.1 spot in 2020.
The Adipower SOFT 2.0 is a diamond oversize racket designed for padel players looking to highlight their soft touch. However, due to its innovative Power Embossed Ridge technology, it allows for you to play power style as well.  The EVA SOFT performance rubber offers extraordinary comfort.  The weight ranges 360-375 grams.
AT10 Luxury Genius by NOX
The AT10 LUXURY GENIUS is the new padel racket developed by Nox for wonder-boy
Agustin Tapia.  This padel racket features the same mold and rubber core (HR3 tipe) as the 2019 model.  It just happens that Agustin loved his 2019 racket!  Thus Nox decided to continue with the winning team.  However, Nox introduced the all new 12k carbon fiber and rugged finish as requested by Tapia to add further strength and spin to the ball.   Finally, the racket presents an AVS anti-vibrations system.  The paint and finishing touches are fantastic!
In addition, the following is unique. Contrary to rackets used by other professional players, Agustin Tapia utilizes a stock racket. This means, without any modifications or customizations!
To make the offer irresistible, the racket includes a transparent protector and cover.  This is definitly one of our top items in our list of best padel rackets of 2020.
Vertex 02 by Bullpadel
The New Vertex 02 is the flagship racket of Bullpadel.  It is certainly an interesting racket from a brand that is constantly innovating on cosmetic, internal components and materials.  The Vertex 02 is no exception.  It features a diamond shape designed to maximize power and performance without compromising control, as Bullpadel promises.   The face is rough to increase grip and effects. The external core and frame are made of 12k carbon.
In addition, the racket includes a system that allows for customizable weight, metal-made frame protection and the revolutionary hesacore grip.  This is the racket of choice of big World Padel Tour hitter Maxi Sanchez.
2019 Discounted Models
You may also want to consider discounted 2019 models. Read this article to learn more about them.  They may be still on stock.
If you need more technical advice, visit my original article "How to choose a padel racket".  There you can learn about technical aspects of a padel racket that you should keep in mind when buying your next racket.
[simple-author-box]