For the final of the Cascais Padel Masters, for the World Padel Tour, Brazilian Pablo Lima and Spaniard Alejandro Galan defeated Federico Chingoto and Juan Tello 6-4 6-4.
Cruising to Championship
Pablo Lima and Alejandro Lima were the undisputed best team of the tournament. They progressed through the draw without loosing a single set. Furthermore, for the quarter final they obliterated heave pounder Agustin Gomez Silingo and veteran Adrian Alemandi 6-1 6-0 .  For the semi-finals, within few minutes they cruised through old teammate Fernando Belasteguin and young talent Agustin Tapia, 6-1 6-2.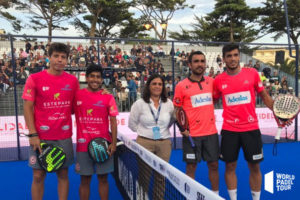 During the final match they faced young upcoming Federico Chingoto and Juan Tello.  This was their first championship match. Right from the beginning, Lima and Galan imposed their style, with Lima dominating Tello with his left double handed backhand and heavy smashes while Galan was creating havoc with unexpected shots and a great physical display.  6-4 6-4 was the final result for the champions.
Lima-Galan, absolute superior
They were the best of the tournament, not only as a team, but also as individual players.  Pablo Lima showed once more why he was ranked with Belasteguin as no.1 for over three years.  No opponent could match his high speed left double handed backhand; Ale Galan's physical display and creativity was the best in the tournament.
Lima and Galan are positioning themselves as the best team of the second part of the year. Together, since they joined forced, they have won three of the four tournaments they played. They are closing ranks to the current world's no.1 Sanyo Gutierrez and Maxi Sanchez as well as to ambitious Paquito Navarro. 
[simple-author-box]