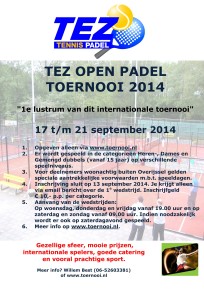 This year TEZ presents the 5th edition of the TEZ Open Padel Tournament. It will take place from 17th September up to and incl. 21st September 2014. In 2013 TEZ  welcomed more than 100 players coming from all regions in the Netherlands, as well as Germany, Belgium and even Spain.
The tournament has now been expanded with the category  "tournament players"  especially for the best padel teams that will participate. However everybody can participate in this tournament, since TEZ offers as well medium as advanced level. Men's double, women's double and mixed double. One can participate in max. two categories. Subscription fee is € 10,00 per category and you can subscribe till Saturday 13th September 23.59 hrs.
Players coming from outside the Overijssel region participating in two categories need to start Friday evening at the latest. Those starting in one category are allowed to start on Saturday morning.
At TEZ you will enjoy the cosy atmosphere, good catering and (most of all) great possibilities to play and see fantastic padel. To inscribe follow this link.