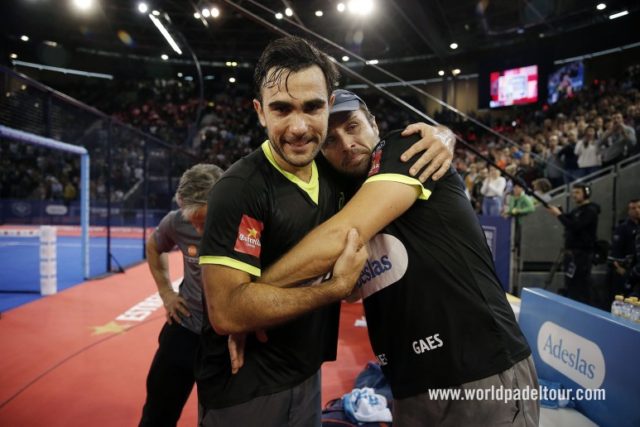 After four months out of the circuit, Fernando "Bela" Belasteguin is back.  He proved that he is still the best.  Partnering with Brazilian Pablo Lima, Belasteguin claimed championship at the WPT Madrid Master Finals over the current world's no1. team Sanyo Gutierrez and Maxi Sanchez 7-6 6-3.
The final match was highly anticipated.  Could Fernando Belasteguin, who reigned the sport for over 16 uninterrupted years, with Pablo Lima, defeat the world's no1?  This is a taster of what one could expect in 2019.  Belasteguin back in full shape, ranked at no.10 in the world, charging hard to reclaim the top position in the ranking.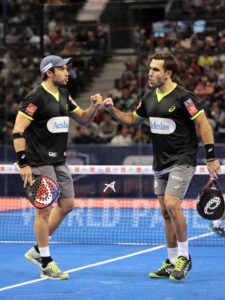 The final match started with Sanyo and Maxi at their best. They pushed Belasteguin to the back of the court and forced Lima to play one against one against Sanyo. The strategy worked well during most of the first set.  When the score was 1-5, things turned around.  With this score, we could see Belasteguin closing his fist and Lima pounding his left hand against his chest.  As Belasteguin would later explain during the post-match interview "… a Belasteguin never gives up…".   Slowly Lima managed to bring Belasteguin back into the match.  He got more involved.  Amazingly, they turned the set around and forced a tie break, which they won with relative ease, 7-3.
Sanyo and Maxi reacted on the second set. They broke Belasteguin's-Lima service and got ahead right at the beginning.  But not for long. Belasteguin-Lima broke their opponent's service back and then once again.  They were clearly dominating the match.  While Sanyo and Maxi were doubtful Belasteguin and Lima were convincing and decisive.
The match finished 7-6 6-3 for Belasteguin-Lima.  They are, once more, Masters at the World Padel Tour.  With this result Belasteguin moved forward from the 10th position at the World Padel Tour ranking to the 8th.  He gave us a taster of what 2019 will be like and confirmed that even ranked at number 10th, he is still the best.