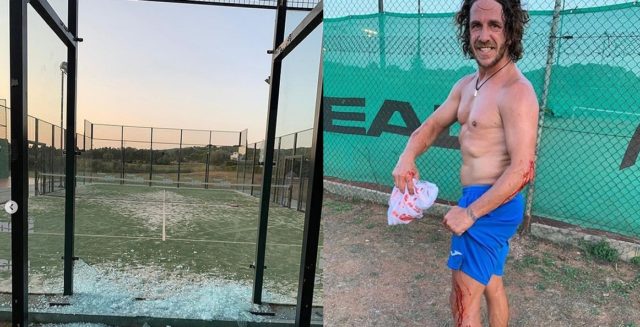 Former Barcelona player Carles Puyol is one of the most legendary defenders in football.  Nicknamed "Tarzan", he is widely recognized as a "tough competitor" and for his passion for Padel.
It appears that Puyol's competitive streak went too far this time.  He crashed into a glass pane during a friendly match of padel.  Despite the heavy bruises and cuts he joked on his Instagram account:  "Will I ever learn to take it easy? :-o"
These types of accidents are rather common in padel.  They usually result in shocking images but in no serious consequences.
The photo shows the aftermath of the incident with scattered countless shards of glass over the court.  Puyol versus Padel court.  Puyol wins.  Vamos Puyol!
[simple-author-box]