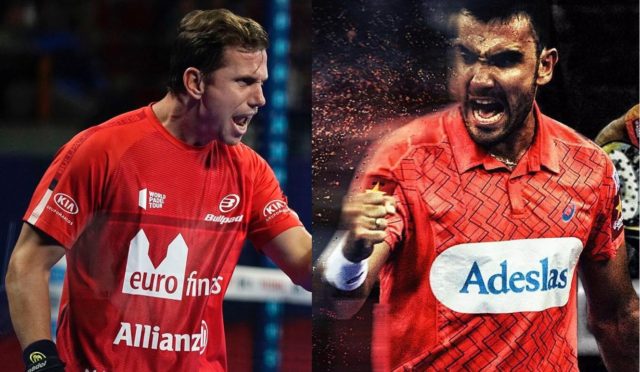 Every year, just before the WPT Master Finals, padel players go silently shopping for a new partner for the upcoming year. Long term projects are not popular.  Right after the Master Finals twitter will start raining thank you partner messages and shocking new announcements.
Bye Bye Lebron?
According to a qualified source, the first all-Spanish no.1 padel team in history is about to split ways already. They have been growing apart. Their defeat against Sanyo Gutierrez and Maxi Sanchez at the Final of the Mexico WPT caused additional discomfort in Paquito Navarro, who would join forces with Brazilian powerhouse Pablo Lima. Naturally, who would not want Lima at his side? He is a top left handed player; a scarce commodity.  There are only two other left handed players in the top twenty: Alejandro Ruiz and Lucho Capra, both at the bottom of this peloton.
The Domino Effect
How about Lebron?
If this is confirmed, it will send shock-waves across the padel universe.  Lebron, arguably one of the best and youngest Spanish padel rock and rollers, will need a new partner.  Would he join rising star Alejandro Galan?  Let us not forget that Galan is perhaps the biggest candidate to take the no.1 ranking spot at the World Padel Tour. Whereas Paquito, Lebron, Sanyo and Maxi Sanchez have plenty of points to defend during the first five tournaments of 2020, Galan has plenty of space to score.  This is surely attractive to Lebron.
Sanyo, Maxi, Tapia, Belasteguin and Lamperti
To add to the mix, Sanyo Gutierrez and Maxi Sanchez have been suggesting a split as well.  They have been irregular during the second part of 2019.  Perhaps their championship in Mexico will convince them to continue to work together.
And is Belasteguin going to continue to invest in wonder kid Tapia or look for a more developed player to prepare for the last phase of his career?  Would he dare to go look for Sanyo instead? Or strong tempered Lebron?
A final piece to the puzzle is Lamperti, who recently apologized publicly for his performance this year. It was the first time for him not to make it to the Master Finals.  He openly announced that his is head hunting.
All will be confirmed –and change- after the upcoming 2019 Master Finals in Barcelona, as usual.
[simple-author-box]