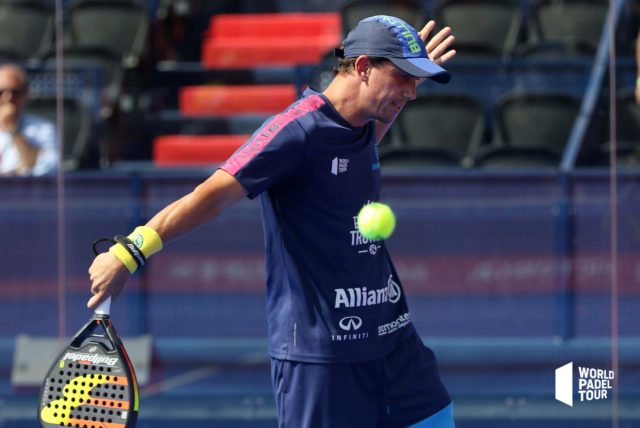 As anticipated in a previous article, Paquito Navarro is on the rise.  He could soon become the first Spanish born padel player to reach the number one spot in professional padel. With the exception of Brazilian Pablo Lima, the international ranking has been historically dominated by Argentines, including Fernando Belasteguin, Juan Martin Diaz, Alejandro Lasaigues, Roberto Gattiker and Bebe Auguste.
Sanyo-Maxi in Trouble
The current no.1 team, Sanyo Gutierrez and Maxi Sanchez, started the 2019 season in great shape.  They won three of the first five tournaments.  Since then, things were not the same.  Their two main trainers, Gustavo Prato and Nito Brea, left their team.  In the following five tournaments they merely reached one semifinal, two quarter-finals and two rounds of sixteen.
Paquito, Getting Closer
Paquito Navarro, Sanyo's former partner, has been on the rise.  With Juan "Worlverine" Lebron, they have become the most exciting team of the season.  Together they won four of the nine tournaments.
His Chances
It all depends on Paquito, who currently has 11185 points.  If he wins the Estrella Damm Madrid Master 2019, he will reach the no.1 spot no matter how Sanyo-Maxi do.  If Paquito looses at the final, he could still make it but it would depend on other results.  There is only a 625 points difference between Paquito and Sanyo-Maxi.  They account for 11810.
Other reasons to watch the Estrella Damm Madrid Master 2019
Fernando Belasteguin will be back in the court with young talent Agustin Tapia. Both have recently returned to the circuit after taking weeks off to recover from injuries.   They promise to be 100% in shape in Madrid.   Additionally, Pablo Lima, who recently joined forces with Alejandro Galan, won the last two tournaments and are joining the race to the top.
[simple-author-box]