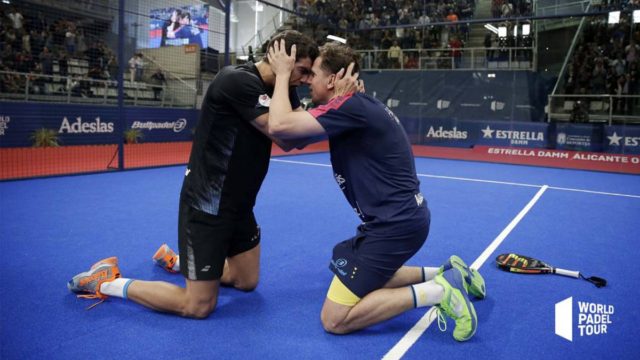 Spain has not delivered any international (male) top ranked international padel player in the history of the sport, that is an unpleasant fact for Spain.  With the exception of Brazilian Pablo Lima, male Padel has been ruled by the mighty Argentines.  But there are two guys that are the hope of Spain: Paquito Navarro and Juan "the wolf" Lebron.
Nowadays, there is some buzz on the internet about Paquito and Lebron.  They could become the first Spanish team to reach the no.1 ranking spot in the history of professional padel.   The Spaniards are hopeful.  2019 could not have started better for them.  In all three 2019 WPT Tournaments they reached the final; they claimed championship in one of them.
Furthermore, contrary to expectations when they announced their partnership at the end of 2018, their playing style has been convincing. Paquito has become more stable and mature.  He is not a young kid anymore.  He is the emotional leader of the team.  Lebron, who has been a creative but unreliable talent since 2015, is following Paquito's lead well.  And most importantly, he has demonstrated that he can play well on the right side of the court; perhaps playing more than well.  Do not forget that before joining Paquito, he has played most of his life on the left side of the court.
It would seem unlikely for Paquito and Lebron to reach the no.1 position this year.  But both current teams, no.1 Sanyo Gutierrez and Maxi Sanchez as well as no.2 Belasteguin and Pablo Lima, will have to defend many points in 2019.  Thus, they could perhaps shorten the distance to the best two teams and, eventually, challenge their dominance in 2020.  And the southern Europeans could finally scream "Que viva España!".
Started playing padel in Argentina in 1987. Contributor to the structural development of the sport in Holland since 2006. University lecturer in International Business, specialized in media, sports and entertainment.   Senior padel coach, sports journalist, manager and pioneer.  Eternal student.
When I am training players I use a Dunlop Nemesis Padel Racket and Dunlop Training Balls. Would you like to become a guest author? Contact us.