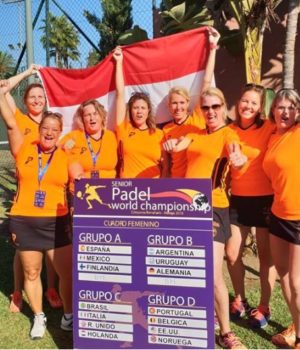 Brazil is one of the top five Padel countries in the world. With this in mind, one could expect a strong senior team. The Dutch Ladies shocked the padel world with an easy win against the Brazilians: 3-0.
"Marie-Jose and Dietske played amazing. They won 6-0 6-0 in fifty minutes. Iris and Thea followed and also won fast: 6-0 6-1. Then it was my turn with Kim: 6-2 6-2", according to team captain Mena Smolders.
With this result the Dutch ladies continue to move forward in the group phase. Today they will compete against the nation that seems favorite to win the group: Italy.
The future outlook of the team is positive. Mena: "Italy is tough. Their players look like teenagers. UK is not easy, but we can do it".
At this point the Dutch ladies could finish first to third in the group. Depending on their further results they could go to compete for final positions 1st to 4th or 5th to 8th. Positions 9th to 10th seem to be behind already.
The Dutch Gentlemen lost 0-5 against one of the strongest teams in the Championship: Argentina. The Argentine team includes few of the sport's biggest legends. Today they will compete against Portugal.