Fernando Balasteguin, the living legend of Padel, has confirmed that he will partner with young Argentine Agustin Tapia.  The unanswered question remains: is Belasteguin going to continue to play on the left side of the court or switch to the right?
According to sports newspaper Marca.com, Belasteguin will start playing on the right side.  The story was not confirmed neither by Belasteguin or Tapia.
What is the issue?
His new partner, wonder kid Tapia (20), is a fast young creative heavy hitter.  With Belasteguin stepping into his 40's, would it not make sense for Belasteguin to switch sides?  That would save him some running.  Typically, the player on the left side of the court has to cover more spaces and run more.  But there is a challenge in this: Belasteguin has played during the last 18 years on the left side.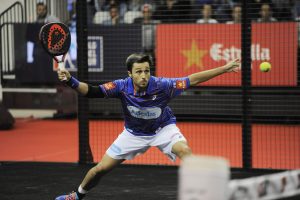 Could Belasteguin switch sides?
Yes he could.  Belasteguin is an atypical left side player.  His strongest features are his tactical discipline, the perfect use of the lob and fighting mentality rather than a big power smash as usually seen on players taking his position. Thus, his profile fits the role of the right side player.
There are plenty of examples of players that have switched sides, including Juani Mieres -to join heavy hitter Lamperti- and Juan "Wolverin" Lebron to partner with Spanish powerhouse Paquito Navarro.  This is another good precedent.
Now, don't underestimate this move.  If Belasteguin is to switch sides it will not come without challenges.  First of all, he will need to adapt to the new side (technically and tactically).  Additionally, he will need time to learn to play with young Tapia.  He will surely  need several weeks to reach his top performance.  And one must not forget that he is coming back from an injury.
Other Options
There are two more options for Belasteguin.  One would be to continue to play on the left side.  This option will be demanding at the end as he will need to compete against mostly younger opponents.  Sooner or later covering the extra spaces that playing on the left side requires will come as an extra weight.  On top of that, contrary to Belasteguin's former partners -J.M. Diaz and Pablo Lima- young Tapia is right handed;  his arm will not be in the center of the court ready to help Belasteguin.  Belasteguin would be on his own to cover the center.
A second option would be to compete in a sort of a hybrid set-up whereby Belasteguin would play the serving games on the right and the rest on the left side. By doing this, Tapia would be able to start the serving rallies from a dominant position.  Further, Belasteguin would be able to return services from the left side utilizing his signature lobs.  A final advantage of this formation is that it would be challenging for his opponents to read or anticipate Belasteguin-Tapia's moves.
Belasteguin and Tapia will play their first match together on 8th August at the Cervezas Victoria Mijas Open 2019.  For the first time in many years Belasteguin will start the tournament from the 1/16 round.
Started playing padel in Argentina in 1987. Contributor to the structural development of the sport in Holland since 2006. University lecturer in International Business, specialized in media, sports and entertainment.   Senior padel coach, sports journalist, manager and pioneer.  Eternal student.
When I am training players I use a Dunlop Nemesis Padel Racket and Dunlop Training Balls. Would you like to become a guest author? Contact us.